Share Kindness One Day at a Time
Share Kindness One Day at a Time
Report Your Acts of Kindness!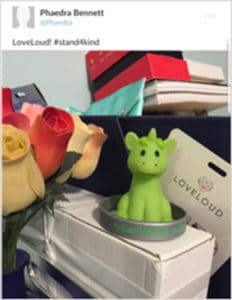 Have you found a Kindness Unicorn? They are waiting to be discovered! 
Kindness Unicorns are hidden around your school and even around your community!  Tell us where you found your unicorn by posting a picture with it on social media using the hashtag #stand4kind. You can also find us on social media as @stand4kind where you can share your pictures there!
Plus, you'll be entered into a drawing for our kindness prizes. Report your unicorn finding in our Find Kind app to get more points!
The ultimate helpline. The Stand 4 Kind app gives schools, students, and parents
easy access to various tools and resources to ensure a safe and positive environment for all.