There does not seem to be much of a question of if schools will re-open. They most certainly will. The question seems to be howschools will re-open. As a second resurgence of COVID-19 spreads across the country, with more than 3 Million people infected as of July 8th, and the highest 7-day average rate of infection to date, with over 52,000 new infections per day, we are seeing the groundwork for the first day of school being laid already. As we move closer to the start of the 2020-2021 school year things seem to be getting worse versus better, leaving many parents and teachers wondering how students can safely return to school this fall.
"More than 3 Million People infected as of July 8th"
What are different states up to?
In a July 8th press conference on education, Vice President Mike Pence indicated that the White House "hope[s] every school in America is able to open this fall." Schools across the country are trying to be creative in their plans to keep students and staff safe. Utah schools are considering 4-day school weeks so that the 5th day could be used to decontaminate the building. Alabama schools seem set to open on August 10th, but recognize that "could still change," according to Montgomery Public Schools Superintendent, Dr. Ann Roy Moore. In Florida, Education Commissioner Richard Corcora relayed an order that schools must be open "at least five days per week for all students" and provide all services required by law, including in-person instruction. Schools in New York seem to be taking a more cautious approach according to an article in today's New York Times. New York Mayor Bill De Blasio has suggested "two days a week or three days a week, depending on the week," and expanded "remote learning exclusively," at parental discretion.
The White House "hope[s] every school in America is able to open this fall."

-Vice President, Mike Pence
What are some of the concerns for schools?
Every state, and even each county nested in those states, has to wrestle with the unique needs of its population when considering how to re-integrate communities back into schools. Further compounding the difficulty of reopening are expectations from parents as they balance worrying about the safety of their children and their own families, with getting back to work as the economy continues to slowly attempt to get back to normal. Teachers and school staff must also be considered. While children seem to be more resilient to the symptoms of Coronavirus, the average age of a teacher in the United States is around 42 years old. Many teachers are also in higher risk age groups according to their age, or any number of pre-existing conditions. What's more, we do not know if a teacher/student has grandparents who live at home, children/siblings who have pre-existing conditions, or connections to other vulnerable individuals.
What does the path forward look like?
The CDC recently released a series of guidelines/suggestions surrounding the safe re-opening of schools. There were a host of suggestions that were made to reduce the spread of coronavirus and attempt to keep people safe. Schools should, according to the guidelines, consider implementing hygiene education, modified layouts, staggered scheduling, cohorting, mandating student mask compliance, and preparing policies for when someone gets sick. President Trump tweeted in opposition to these guidelines stating that he "disagree[s] with the CDC on their very tough and expensive guidelines for reopening schools." He went on to call the guidelines "impractical," and intimated that he would be coming up with his own set of guidelines for schools to follow.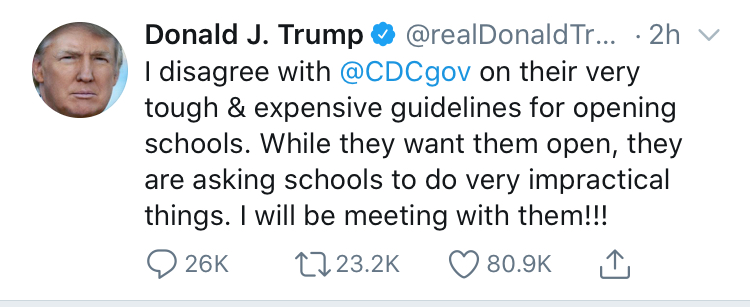 The first weeks of August, and the new school year, feel like a long way out. But, those days are just around the corner. Stand4Kind will continue to monitor the schedule for re-opening schools, and will be here to support our students, teachers, schools, and communities to the best of our ability. Remember, kindness always wins!
Check out some of our other recent posts: